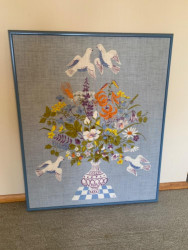 Lot # 32 -
Vintage Lisbet Jobs Handtryck Sweden "Duvor"
Opening Bid :
$

5.00

Pickup Instructions:

Pick up day is 3 June 2023. Time is 10:00 to 3:30. Tools and moving equipment are not available if items need dismantled. Staff is not available to load and lift heavy, large items. Appointment times are managed through sign-up genius. The link is on your invoice. Payment of your invoice is provided via a link on your invoice. Wi-Fi is not reliable on-site. 3 June is the Final day of pick-up. Call Heidi at (253) 381-8717, for Friday arrangements.

Start Date/Time:

25-May-2023 7:00:00 AM

End Date/Time:

31-May-2023 7:31:00 PM

Current bid:

$200.00

Highest bidder:

4ssaseaC

Auction has ended
Description :
Lisbet Jobs doves screen print Framed. Dimensions are 30.5 inches wide, 38 inches tall.
This listing is for a large and stunning hand printed linen fabric "Duvor", designed by Lisbet Jobs, Sweden, and made at the Jobs' family printing shop in Dalarna in the 50s.The print itself in is near excellent condition, it seems even to have its stiff 'starchy' feel left, so this textile has been well preserved over the years.

Auction History
Highest bidder is 4ssaseaC
| Date | Bid | User |
| --- | --- | --- |
| 31-May-2023 6:48:28 PM | $200.00 | 4ssaseaC |
| 31-May-2023 6:48:28 PM | $200.00 | 7Trafalgar |
| 31-May-2023 6:47:58 PM | $180.00 | 4ssaseaC |
| 31-May-2023 6:47:58 PM | $175.00 | 7Trafalgar |
| 31-May-2023 6:15:53 PM | $160.00 | 4ssaseaC |
| 31-May-2023 6:15:53 PM | $155.00 | Frogeyesalad |
| 30-May-2023 4:12:06 PM | $150.00 | 4ssaseaC |
| 30-May-2023 4:12:05 PM | $150.00 | Jeannie |
| 30-May-2023 5:48:29 AM | $101.00 | 4ssaseaC |
| 30-May-2023 5:48:28 AM | $100.00 | 7Trafalgar |
| 30-May-2023 5:39:15 AM | $76.00 | 4ssaseaC |
| 30-May-2023 5:39:14 AM | $75.00 | 7Trafalgar |
| 30-May-2023 5:38:26 AM | $51.00 | 4ssaseaC |
| 30-May-2023 5:38:26 AM | $50.00 | 7Trafalgar |
| 30-May-2023 5:38:08 AM | $41.00 | 4ssaseaC |
| 30-May-2023 5:38:08 AM | $40.00 | 7Trafalgar |
| 30-May-2023 5:37:51 AM | $33.00 | 4ssaseaC |
| 30-May-2023 5:37:51 AM | $32.00 | 7Trafalgar |
| 29-May-2023 7:23:06 AM | $27.00 | 4ssaseaC |
| 25-May-2023 3:55:59 PM | $5.00 | snazzlebot |